Mystery
As you can imagine from the title, Jane Slayre by Charlotte Bronte and Sherri Browning Erwin is a retelling of the beloved classic Jane Eyre only with paranormal creatures added. Is this humorous retelling Jane is the daughter of vampire slayers being raised (after her parents are killed by vampires) by her vampire aunt and three vampire children. I have to admit the scene where her cousin John attacks her takes on a whole new level of scary when you add in the fact he could easily drain her blood.
I enjoyed that Erwin kept the original story line for the most part, light gothic elements and truly a story about Jane coming of age and staying true to who she was. The one place, interestingly enough, where I felt like Erwin deviated from the original story was how there was some discussion about souls or minds being linked across distance in the original Jane Eyre. For example there were the twins who were part of the house party at Mr. Rochester's that the doctor was there asking them questions, truly believing that souls could communicate across distance. So this one paranormal element that was in the original story, was left out in the new paranormal version of the story. I just that it was amusing that this was where Erwin deviated from the original, other than the one moment that Rochester calls out for Jane but it felt slightly out of nowhere especially considering all the other paranormal elements.
If you are a fan of Pride and Prejudice and Zombies I think you will be entertained by Jane Slayre. I giggled through quite a bit of it (I mean really, zombies with bits falling of them while they are performing their tasks as servants) and appreciated the additions of the truly gothic elements. If you are expecting a more serious retelling of Jane Eyre you are better off just rereading the original but if you are interested in an entertaining couple of hours then Jane Slayre is a fabulous choice.
You can read an excerpt here.
Rating: 
Content: 
Title: Jane Slayre
Author: Charlotte Bronte and Sherri Browning Erwin
Format: Paperback,  eBook
Page Nos.: 402
AISN: B003E7WJJQ
Publisher: Gallery Books
Release Date: April 2010
Available for purchase: Amazon
Reviewer: Jessica
When Grace Elland discovers her boss murdered in his bed, she knows that the vodka bottle left on the dresser is a message for her from the killer, but the message is from someone who should be dead. In Trust No One by Jayne Ann Krentz, Grace finds herself facing her past long after she expected to be able to lay it to rest. As if that wasn't enough, if she can't figure out who is leaving macabre messages she fears she will be next.
Julius Arkwright has made millions by focusing solely on his company but lately has felt like something is missing from his life. Then he meets Grace Elland, despite blowing the first date he finds himself completely interested when he is in her company. Now if only he can convince her to give him a second chance and help her catch who is trying to kill her.
Trust No One is a fabulous return to what makes Jayne Ann Krentz's contemporary romantic suspense so fabulous, well done tension, a killer on the loose and all the clues pointing to different possible suspects. I read Trust No One in hardbound while I was visiting family and admit that I was so disappointed I wasn't reading in ebook format because it had so many great quotes I wanted to share and I was never near a pencil (and I struggle to mark up print copies, I dog eared one quote and cringed while I bent the page to do so) to mark it so I am only going to share one gem with you. '"There is no great American novel, " she said absently. "This nation is too big and too diverse to produce only one great book.  We've got lots of them and there will be more written in the future. Art doesn't stand still."'
With the latest two contemporary stories, both Trust No One and River Road, Jayne Ann Krentz has returned from paranormal overarching story lines to good suspenseful romantic suspense and I loved both books. I also loved how Julius blew the first date, instead of two characters who were immediately drawn to each other it was a refreshing change to watch Julius struggle to fix what he blew.
You can read an excerpt here.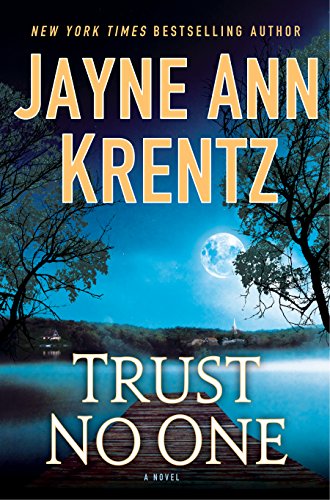 Rating: 
Content:
Title: Trust No One
Author: Jayne Ann Krentz
Format: Hardbound, eBook
Page Nos.: 338
AISN: 0399165134
Publisher: Putnam
Release Date: January 6, 2015
Available for purchase: Amazon
Reviewer: Jessica
**I received a copy of this book from the publisher but was not required to provide a review and it did not impact my review in any way.
Novel Reaction is excited be a part of the Blog Tour for Katharine Ashe's I Adored a Lord, the second book in the The Prince Catchers series. First let's get to know a little more about Katherine.
Award-winning, best-selling author KATHARINE ASHE writes intensely lush historical romance, including How To Be a Proper Lady, among Amazon's 10 Best Books of 2012 in Romance, and eight other acclaimed novels set in the era of the British Empire. With the publication of her debut novel in 2010, she earned a spot among the American Library Association's "New Stars of Historical Romance." She was a nominee for the 2013 Library of Virginia Literary Award in Fiction, and in 2011 she won the coveted Reviewers' Choice Award for Best Historical Romantic Adventure. Katharine is also a finalist for the 2014 RITA® Award, the highest honor in the romance fiction industry, for How To Marry A Highlander. She lives in the wonderfully warm Southeast with her beloved husband, son, dog, and a garden she likes to call romantic rather than unkempt. A professor of European History at Duke University, Katharine writes fiction because she thinks modern readers deserve high adventure and breathtaking sensuality too. For more about her books, please visit her at www.KatharineAshe.com.
I thoroughly enjoyed my way through I Adored a Lord (your can read my review here) and am thrilled to be able to share with you an excerpt from it.
He was nearly a head taller than she and certainly the most handsome man she had ever stood so close to, with his shirt of close-woven linen and waistcoat of brocaded silk. The whisker shadow of the night before that had scratched her chin had gone; his cheeks were smooth and high-boned, his jaw firm. "You seem remarkably comfortable with all of this."

"I was at war, Miss Caulfield. There is little that can discomfit me now."

But that was not the entire truth. He was not at ease as he seemed to study her features now.

"As you can see, I have knowledge that can help you find the murderer," she said.

"What suggested to you that I have any intention of pursuing such a course?"

"Of course you have, or you would not have brought the body here and bribed the servants to keep it a secret from everybody else."

"I did not bribe them."

"You must have. I would have. After you tell the prince, I suppose he will summon the local law to investigate. When it arrives, let me help."

"I cannot in good conscience allow that."

"Then allow it in bad conscience."

"Miss Caulfield—"

"You must allow me to help."

"And yet I will not, despite my wish to please you."

"You don't wish to please me. You wish to thwart me."

"You are correct. In this at least." His gaze slipped to her shoulder, then her arms she was hugging to her waist, passing over her breasts as though they were not there. "Your lips are blue. You must retire to the warmth of your bedchamber. I will instruct Monsieur Brazil to send up a maid to build your fire again."

"Aren't you concerned that the murderer might realize we have discovered the body and will know that I know about it, and will come after me?"

That muscle twitched in his jaw again, but she did not know if humor or pique inspired it. "Yes."

"If you keep me close, he won't be able to get to me easily."

"Interesting choice of words from the woman who vowed not two hours ago that she would not in this life come close to me again."

"To solve the mystery of the murderer," she said, her tongue abruptly dry, "of course."

"Ah." A smile caught at the corner of his mouth, the dent peeking out. "Of course."

"I have plenty to recommend me to this investigation that the local police will appreciate."

"An expertise in deaths involving medieval armor, perhaps?"

"A female body."

That stalled him. Again his gaze dropped but this time it more than grazed over her breasts; it lingered. "I will admit I am not seeing how that makes you an expert investigator to murder." He lifted his eyes to hers. They were decidedly dark and not entirely focused. The night before, his eyes had looked like this when his body atop hers had become aroused.

"I can speak to the women at this party in a manner in which I suspect you cannot. In regular conversation that seems like gossip I can encourage them to reveal information that could be valuable to discovering why this man was murdered and stuffed into a suit of armor. I will investigate this murder whether you or the local police wish me to or not."

There was a stillness about his contemplation of her that at once made her breathe more deeply and unnerved her.

"You have me against the wall, it seems," he finally said.

"I do."

"The moment I have cause for concern over your safety, I will remove you to the village."

"You will do no such thing. You haven't the right. I may not actually be a lady, but I am a guest of the prince—"

"Who will do as I advise." He seemed entirely confident of this.

Suspicion prickled at Ravenna. "Who is to say you are not the murderer, and now that you know I have useful information you won't dispatch me too?"

"None but me."

She glanced into the darkness where the butler had disappeared, then back at the tall, dark man who had subdued her quite effectively in a stable the previous night. "This is the part where you pull out the bloodstained dagger, isn't it?"

"Why wouldn't I have done it earlier, before Monsieur Brazil knew of your involvement?"

"No doubt you only thought of it at this moment."

"It seems I am carelessly shortsighted."

"It does."

"Miss Caulfield?"

"You are not the murderer?"

"Go to bed." He grasped her fingers and tucked them around the lamp handle. For a moment his large, strong hand encompassed hers, and she thought that no man who murdered another could possibly have such a marvelously warm, gentle touch. Then he released her. "The prince will call the party together after breakfast. If you truly intend to assist in this—"

"I do."

"You must have your wits about you."

"I always have my wits about me."

"I think I am coming to see that."

"You haven't dispatched me because you know you need my help."

"Do I?" He took a half step closer. "Or perhaps I have not yet dispatched you because, as depraved as I am, when I look at your lips I can feel your body beneath mine in the straw. If I were to do away with you now, that scenario could never be repeated."  …
I missed reading the first book in The Prince Catchers series but I will definitely be reading the rest of the books in the series.
The Prince Catchers Reading Order:
I Loved a Rogue (February 2015) 
Elizabeth Jennings and her fifteen-year-old daughter Claire have relocated from the big city to a tiny town in Virginia so Claire can bring the local newspaper into the digital age. In The Ghost Next Door by Ginny Baird, both Claire and Elizabeth are concerned when it turns out the house they are renting sight unseen is next door to a cemetery.  When creepy things start to happen in the empty house next door, Elizabeth is grateful the sexy single sheriff is there to help her out. But Elizabeth trust her heart to someone who fits in so well in such a small town?
Nathan Thorpe likes taking care of the people in his town and he is content to take care of everyone equally until Elizabeth moves to town, now he finds himself wanting to take of her and Claire and becoming a family. But Nathan knows that he is in Blayton Virginia for a reason, but as that reason becomes clearer will he be able have the family he wants?
Okay, I have to admit that the ending of The Ghost Next Door totally threw me. Baird does a great job of foreshadowing the ending but she does it in such a way that I expected a different ending than what really happened. The romance between Elizabeth and Nathan was sweet and I loved the secondary relationship between Claire and Perry. I found The Ghost Next Door to be an entertaining quick read and I loved the scene where the teenage girls broke into the empty house to scare Claire and managed to freak themselves out instead. The mystery elements are a nice combination with the sweet romance stories in The Ghost Next Door but I have to admit that I am disappointed that we don't get the romance story of Dan and Belle.
Content: 
Title: Ghost Next Door
Author: Ginny Baird
Format: Paperback,  eBook
Page Nos.: 190
AISN: B00EISACN0
Publisher: Winter Wedding Press
Release Date: August 2013
Available for purchase: Amazon
Reviewer: Jessica
**I received a copy of this book from the author but was not required to provide a review and it did not impact my review in any way.