Young Adult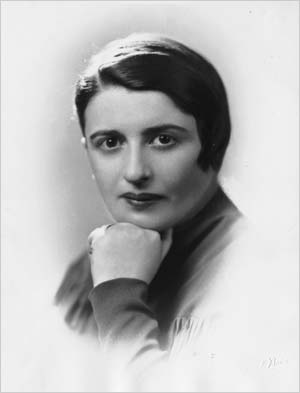 This week marks the 110th anniversary of Ayn Rand's birth (1905-1982). While I am not a huge fan of the dystopian genre (yes I have read The Hunger Games and Divergent but I just didn't love them), Ayn Rand's Anthem had a HUGE impact on me in high school. For those of you unfamiliar with the term dystopian Wikipedia describes it as:
A dystopia (from the Greek δυσ- and τόπος, alternatively, cacotopia,[1] kakotopia, or anti-utopia) is a community or society that is in some important way undesirable or frightening. It is literally translated as "not-good place", an antonym of utopia. Such societies appear in many artistic works, particularly in stories set in a future. Dystopias are often characterized by dehumanization,[2] totalitarian governments, environmental disaster,[3] or other characteristics associated with a cataclysmic decline in society. Dystopian societies appear in many sub-genres of fiction and are often used to draw attention to real-world issues regarding society, environment, politics, economics, religion, psychology, ethics, science, and/or technology, which if unaddressed could potentially lead to such a dystopia-like condition.
Anthem was an assigned reading for one of my English classes (I don't remember which one) and I was blown away with the realization of how powerful language could be upon a society. When you take away a person's ability to learn, to innovate, and to think in terms outside of a collective society you take away who they are and what makes them human. I'm sure I read novels with this concept before reading Anthem but for some reason this concept really hit home that time. Anthem is one of those books I usually read at least once a year because it is just that fabulous. For those of you haven't had the pleasure of reading this thought provoking book I highly recommend you do. It isn't very long (definitely not the volume that Atlas Shrugged is) and it is in the public domain which means you can legally download and read it for free here.
Oscar Banks lives in the extremely popular city of Candor that his father founded in the book "Candor" by Pam Bachorz. In Candor all of the kids are perfect and never make mistakes, relationships miraculously become better and best of all, no one ever wants to leave. Oscar is the star student. He gets straight A's, volunteers frequently for every club, and all of the other kids want to be just like him. However, it is as if Oscar is under cover. He knows how to fight the subliminal messages that are fed to all of the citizens of Candor and he helps those teens that have enough money escape to the real world. When Nia moves into town, it turns his world upside down. Nia is a teenage artist with some obedience issues and Oscar likes her just the way she is. He secretly feeds her his own messages to keep her from learning the truth and wanting to leave. They fall in love. When Nia learns about the secrets he was keeping from her, everything begins to fall apart. Will their relationship be able to weather this storm or will they be lost forever?
While I was reading Candor I thought it was pretty good with an interesting premise, however, it had several inconsistencies within the story. There were two that really bothered me. First, it said that the parents were told about the Messages before they move in and that's how the kids stop misbehaving and their marriage problems might go away. So, they know that their children are being brainwashed and they know that they will be brainwashed as well. This bothers me most because I don't know of any parents, no matter how rotten their kids are, that would be willing to have their own children brainwashed, let alone do it to themselves. It is unbelievable and that is the biggest issue I have with it. That being said, there was one other inconsistency that really irked me. The Messages were given subliminally through music. Yet some of the Messages talked about how art was evil and it shouldn't be encouraged, etc. Hmmm… last I knew, music was a form of art. This one definitely bothered me the most because it was so glaringly obvious and pushed by the author throughout the entire book!
I liked the main character, Oscar, a lot. I thought that he was interesting and can't forget how difficult it would have been to hide the truth from his own dad. He did love his dad even for all of his father's faults. It would have been extremely lonely in a town when only he knew the truth. He would have made friends with those that he helped to escape but then would have no other contact with them. Even though I liked Oscar, I can't help but wonder if the reason he fell in love with Nia is just because she was so different from everyone else in that entire town. Also, why doesn't he just tell her the truth in the beginning? It would have made everything a lot simpler and it would have been easier to get her to act how he needed her to. Other than those things, I liked Oscar. He was a well rounded character and it was sweet how he cared for the people in the town even though they were brainwashed. Overall, I enjoyed the story line and thought there were several good things brought up in this book.
You can read an excerpt here.
Content: 
Title: Candor
Author: Pam Bachorz
Format: ebook
Page Nos.: 257
AISN: B002QX439S
Publisher: Egmont USA
Release Date: September 29, 2009
Reviewer: Jillian
Seventeen-year-old "Hank" doesn't know who he is or where he came from, he only knows that he woke up at Penn Station in New York City with ten dollars in his pocket and a copy of Henry David Thoreau's Waldon in his hands. So Hank decides to start on his own journey to Waldon, trying to discover what it was that Thoreau discovered and, hopefully, in the process discover who he is and what his own journey is about.
I have to admit that Being Henry David is not the usual YA novel that I read, I read it because my book club chose it for the book for this last month. That being said, it was an interesting read. It took me a little while to get into it, especially since the beginning made me think it was going to be about teenagers and the underground drug culture, which it is NOT about. But once I started to get into I found myself traveling with Hank as he discovered who he is and what was so horrible in his past that his mind caused him to forget it (totally NOT what I thought it was going to be). Armistead mixes quotes from Waldon throughout the novel, weaving an interesting mix of the old and new as Hank experiences new things and discover old things he has forgotten. Being Henry David is worth a read.
Content: 
Title: Being Henry David
Author: Cal Armistead
Format: Paperback, Hardbound, eBook
Page Nos.: 317
AISN: B00BNPI7GA
Publisher: Albert Whitman & Company
Release Date: April 2013
Available for purchase: Amazon
Reviewer: Jessica
Gwen has spent her entire life in her cousin's shadow in Ruby Red by Kerstin Gier. She is a normal teenager, well except for the fact that she can see and talk to ghosts. Oh, and her family has a certain gene that allows some members of the family to go back in time. Gwen's cousin, Charlotte, has been training her whole life to go back in time for the secret society. The gene begins to manifest itself as teenagers and Gwen gets the surprise of her life. She gets thrown into a society that she understands nothing about. Her partner to help her adjust to going back in time is a gorgeous Gideon and Gwen immediately begins to crush on him big time. Not only is Gwen dealing with the troubles of being a teenager, but now she has so much more she has to deal with as well as trying to understand the leaders of the secret society she has unexpectedly found herself involved in. Can Gwen work her way through historic London with the help of Gideon? Will she be able to find who, in this strange new world, that she can trust?
I picked this book up on sale and absolutely loved it! Within two days, I had read the first two books in the series and had to figure out with the third book would be released. Gwen is a character that you love and can relate to so easily! She is an average teenager that loves to watch movies with her friends and is trying to survive the troubles of being a teenager. Gwen isn't considered beautiful, she isn't a straight A student, she is slightly overweight, and she is sarcastic. All of these qualities combine to make a heroine that anyone can love.
You can read an excerpt here.
The Ruby Red Reading Order:
Content: 
Title: Ruby Red
Author: Kirsten Gier
Format: Hardbound
Page Nos.: 322
ISBN: 978-0-8050-9252-3
Publisher: Henry Holt
Release Date: 2009
Reviewer: Jillian