After being burned by the small town gossip at the end of her first marriage, Tracy, a single mother is gun shy to try love again.  Working full-time and raising a three-year-old son doesn't leave much free time, let alone time to meet a new love interest.  Dr. Jeremy Nelson has just moved to town and is intrigued by the hard-working no-nonsense Tracy.  When Tracy discovers a small lump in her throat, Jeremy has a chance to get to know Tracy better but Tracy is afraid to let someone close with the whole town watching the new doctor's every move.
I really liked the main character Tracy, she is no-nonsense and doesn't sit around waiting for someone to save her from her problems.  She works hard providing a happy life for herself and her son.  Having grown up in a relatively small town (by small I mean being related to almost everyone and having them discuss every aspect of your life) I understand Tracy's fears about providing fodder for the gossip mill.  The story was entertaining and the storyline moved quickly, keeping me interested until the very end.  I really liked Tracy's relationship with her son.  A Healing Touch is a heartwarming story sure to please.  Jeremy is a strong man attracted to a strong woman, with a desire to assist her but not take over her life.  I have to admit I have a special place in my heart for the man who is strong enough to stand next to a strong woman.
**The one downside was the language, the "F" word was used four times in the novel, so if you are offended by this, beware.
Rating: 1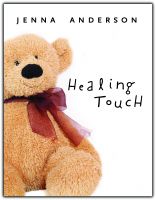 This book can be purchased online at Smashwords. Adam Humphries Womens Jersey